McNamee Hosea Announces Promotion of Three Principals
---
---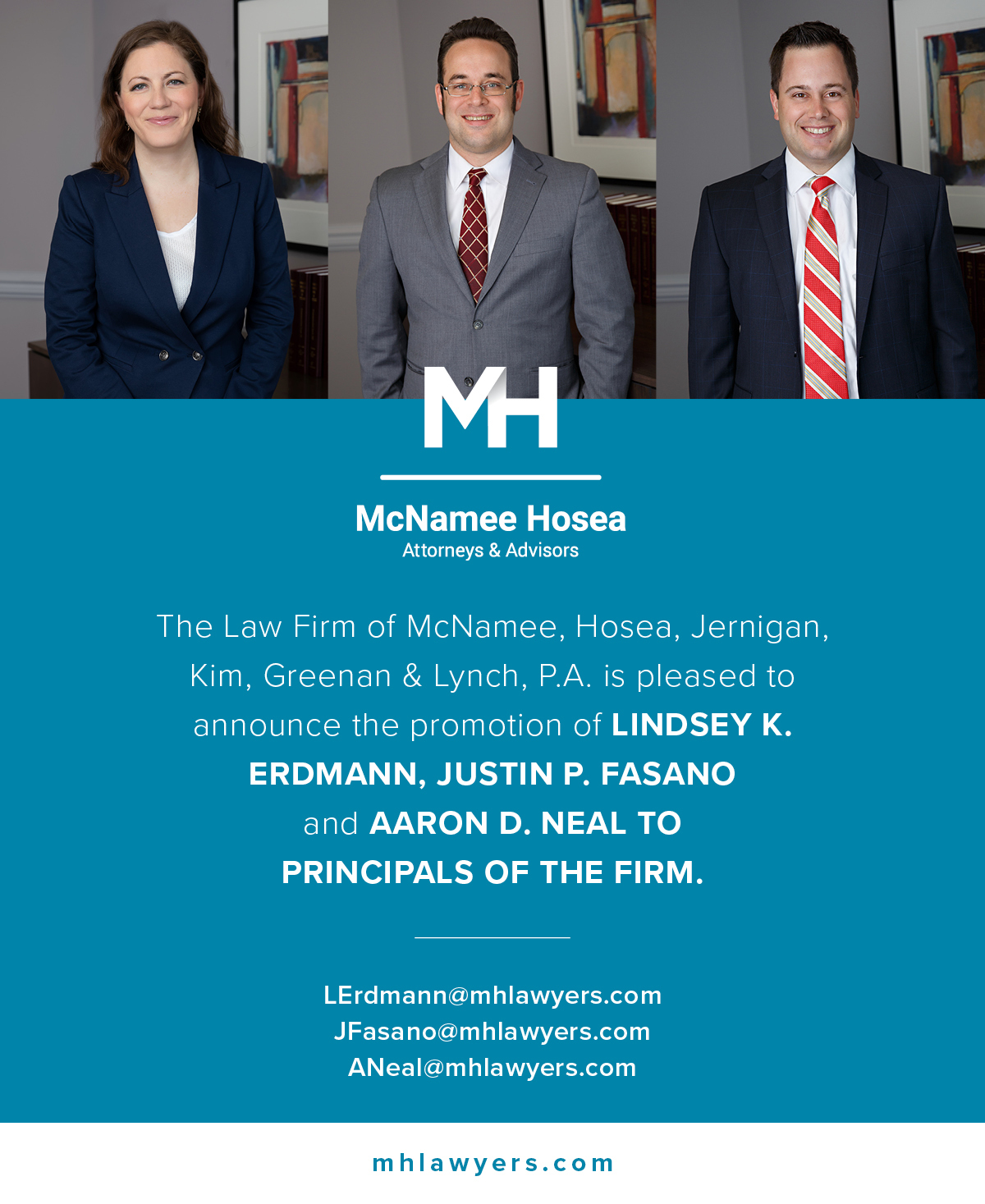 ---
Ms. Erdmann's practice is focused in the area of family law, including divorce, custody and child access,child support, alimony, prenuptial and separation agreements. In addition to her work in family law, Lindsey also practices in our civil litigation department and assists in estate and trust planning and administration.

Lindsey has served with distinction in a variety of positions in state and local bar associations. She is a former member of the Section Council of Family and Juvenile Law for the Maryland State Bar Association, where she chaired several committees. Lindsey is a prior Chair of the Family Law Committee of the Prince George's County Bar Association. She is a former member of the Board of Directors for the Women's Bar Association of Maryland,and a past president of the Prince George's County Chapter. Lindsey is also a past president of the Board of Directors of Community Legal Services of Prince George's County, Inc., where she continues to serve on the Board.Lindsey is a frequent lecturer and program coordinator for continuing legal education opportunities, and regularly writes for various legal publications.
Ms. Erdmann graduated from the University of Delaware and the University of Maryland School of Law. She served as the judicial law clerk for the Honorable Julia B. Weatherly in the Circuit Court for Prince George's County. Lindsey is licensed to practice law in Maryland, and is located in the Greenbelt and Annapolis offices to serve her clients.
Mr. Fasano's primary areas of practice are bankruptcy, business reorganizations, creditor rights and litigation. He represents debtors, trustees, creditors, lessors,secured lenders and shareholders in commercial and consumer bankruptcies. He is experienced in various bankruptcy-related litigation and has significant experience litigating preferential and fraudulent conveyance lawsuits, dischargeability and discharge lawsuits and lawsuits relating to the fiduciary duties of corporate insiders. Justin has brought significant bankruptcy and litigation experience to the practice group, and has strengthened the department with his knowledge of bankruptcy law and business reorganizations.

Justin graduated from the College of William and Mary where he received his Bachelor of Business Administration. He received his J.D. from George Mason University School of Law. Justin clerked for the Honorable James F. Schneider in the United States Bankruptcy Court for the District of Maryland. Mr. Fasano is admitted to practice in Maryland,Virginia and the federal courts of the District of Columbia and is based in the firm's Greenbelt and Alexandria office.
Mr. Neal's primary areas of practice are Commercial Litigation and Real Property Litigation, with a focus on representing lenders, mortgage servicers and insured owners in disputes arising from mortgage servicing and title insurance issues.He also represents businesses and individuals in a wide variety of real estate disputes, commercial litigation,and creditor's rights actions, including foreclosures.

Aaron received his undergraduate(B.S) and graduate (M.B.A.) degrees from Salisbury University. He received his J.D. from the University of Baltimore School of Law. He is licensed to practice in Maryland, Virginia, and the District of Columbia, as well as the corresponding federal bankruptcy, district and appellate courts. Aaron is based in the firm's Greenbelt office.